'Push America' Cyclists Pedal For Those With Special Needs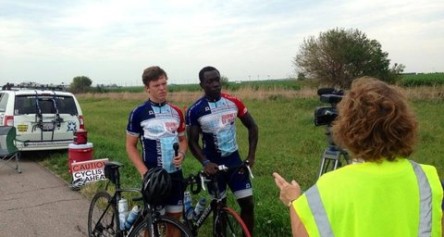 Wednesday, July 10th, 2013 @ 8:59PM
'Push America' Cyclists Pedal For Those With Special Needs
From San Francisco to Washington D.C., 26 members of a national fraternity share a once???in???a???lifetime experience pedaling their way across Nebraska, in an effort to serve those with special needs.
If you're driving along Highway 6, you could be sharing the road with some very special cyclists.
The members of the Pi Kappa Phi fraternity are part of 'Push America'.
Their 90 mile per day journey of hope challenges them, by helping raise money and awareness for people with physical and mental disabilities.
"It's been a pretty great experience. We have to challenge ourselves every single day, and we learn a lot of things about ourselves every single day by these new challenges," said 'Push America' cyclist Reggie Quaye. "So far I'm loving every single challenge we've been through."
"Sometimes we'll ride straight to a friendship visit where they're all be waiting for us, cheering, you know it's a really satisfying feeling, and then getting to hang out with all of these people and just seeing how we are making their day at the same time they're making our day," said 'Push America' cyclist Colin Schwartz. "They're touching our lives and they're inspired by us and they inspire us too."
The team stopped in Minden Sunday night and will trek to Grand Island Monday for one of those friendship visits.
The group expects to meet two other cross country 'Push America' bike tours in Washington D.C. in mid-August.
REPORTER'S NOTES: For more information on how you can help these cyclists on their journey, visit? www.pushamerica.org.